Radon Testing Services in O' Fallon, Belleville, Florissant & Nearby

If your home has not yet been tested for radon gas, the time to act is now! Radon is the #2 leading causing of lung cancer in the USA and is responsible for over 20,000 deaths annually.
We provide at-home test kits to homeowners throughout Illinois & Missouri, including O' Fallon, Belleville, Florissant and areas nearby. Feel free to call us at 1-844-204-8198 to order your radon test kit or to request a quote for radon mitigation!
Do-it-yourself radon test kits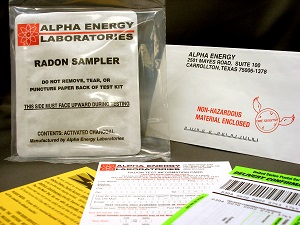 Peace of mind. Know your home is protected with expert radon testing.
Steps for DIY radon testing:
Step 1: Order a Two-Pack of radon test kits online by contacting Woods Basement Systems, Inc.. The EPA recommends performing two kits simultaneously and averaging the results. This is the most cost-effective and accurate way to test your home. Only $22.00 per kit, including shipping and lab fees. It's not required to order two test kits, but we recommend it.
Step 2: Conduct the radon test. Your radon kits will come with some simple instructions that you can follow. Setting up a radon test is easy, and should take no longer than a few minutes of your time. Be sure to pay special attention to instructions that mention closing windows and doors, and locating the test kit in the lowest area of your home (very often the basement). If your home has a crawl space only, then place the test kits in the middle of an interior room, away from doors and windows.
The test will remain in your home for at least 48 hours and must not exceed 72 hours in order to provide an accurate picture of the radon level. Because the concentration of radon gas varies greatly from day to day, a short-term radon test does not provide an accurate analysis of the radon concentration in your home.
Step 3: Send out your radon test package. Once the data has been collected by your radon test kit, carefully reseal the package and send it to the lab site specified on the package immediately for analysis. Within a few weeks, the results of your test should arrive.
What your test results mean
Depending on your radon test results - from either testing method, you can decide if further action is required in your home. If your results show 4.0 pCi/L or higher, contact Woods Basement Systems, Inc. for a free Radon Mitigation System estimate.
Many homeowners will seek mitigation services even if the results are lower -- as there is no "healthy" level of radon, and many organizations have a much lower recommended action level than 4.0 pCi/L (for example, the World Health Organization sets the radon action level at 2.7 pCi/L). Radon levels can be controlled by installing a radon mitigation system in your home. Radon Mitigation Systems are affordable and installed in only one day by our highly trained and skilled technicians!
Looking to have a continuous radon monitor (CRM) installed in your home?
At Woods Basement Systems, Inc. we do not provide CRM testing. However, we can provide you with services from a certified Radon Gas Measurement Specialist, who will perform a Continuous Radon Monitor test in your home. The contractors we refer are reputable, licensed radon testing specialists who are members of ASHE. A CRM test can provide results within 48 hours. This type of short-term radon test is most often used in situations where fast results are needed, such as a real estate transaction.
Contact Woods Basement Systems, Inc. today!
Call today for an appointment to receive a free radon mitigation quote. Woods Basement Systems, Inc. of Illinois & Missouri services O' Fallon, Belleville, Florissant, Decatur, Belleville, Ballwin, St. Peters, Saint Louis, Champaign, Granite City, Danville, Chesterfield, O'Fallon, Urbana, Fenton, Cape Girardeau, and the surrounding areas.
Woods Basement Systems, Inc. also provides HUD multi-family radon testing and mitigation. HUD's multi-family radon policy requires that all radon testing and mitigation be performed by a certified radon professional.
Looking for a price? Get a no cost, no obligation free estimate.