Concrete Leveling & Lifting Services in St. Louis, Springfield, St. Charles, Florissant, MO & IL
Quickly & effectively stabilize your sinking, settling concrete with our PolyLevel® polymer injection in Illinois & Missouri
Does your driveway, sidewalk, walkway, concrete steps or patio have problem areas where sunken concrete has caused uneven surfaces and tripping hazards to form? It's a very noticeable problem that has a very simple solution.
Conditions where outdoor concrete has already begun to sink is not uncommon in Illinois & Missouri and is often the result of shifting or a weak soil base or erosion. If you have noticed sinking concrete near your home in St. Louis, Springfield, St. Charles, Florissant, Decatur, Belleville, Ballwin, St. Peters, East Saint Louis, Champaign and nearby, call us today for a free estimate!
See for yourself why PolyLevel® is a smart mudjacking alternative concrete repair solution.
Telltale signs of sunken concrete
Sinking concrete steps or sidewalks
Cracked, bumpy and uneven driveways or patios
Cracking and sinking sections of slabs
Washout of soils under concrete slabs
Repeated cracking of concrete slabs
Which One Would You Prefer?


Before and After Photos

Before

After

James M. of Champaign, Illinois was troubled by his uneven, cracked walkway. The walkway not only took away from his beautiful landscape, it was a safety hazard. System design specialist Cory S. desinged a solution to restore the walkway.

PolyLEVEL was installed by foreman Andrew T. and his team. PolyLEVEL is a long-lasting solution to lift and align concrete to its original, safe position. James no longer has worries about his settling concrete. He is thrilled to have a restored walkway.

Before

After

Kurt K. of Brownstown, IL had an uneven concrete walkway. Some of the concrete slabs had sunk and pulled away from the house and were no longer level with the other slabs. It had created a major tripping hazard so Kurt called Woods Basement Systems. Woods recommended PolyLevel.

PolyLevel was injected under the sinking slabs. It's an expanding polymer foam that lifts and levels concrete and cures in 15 minutes so it's a quicker and more permanent solution than traditional mudjacking.

Before

After

Mary B. of Centralia, Illinois was frustrated with her cracking, uneven driveway. As the soil settled, the concrete began to sink making it unsafe.

Foreman Andrew T. installed PolyLEVEL to restore the concrete to its original position and make it safe again.

Before

After

The brick steps of this Carterville, Illinois home rested on a concrete slab. The slab had sunk on one side, raising the steps on one side and creating uneven steps.

Woods Basement Systems injected PolyLEVEL below the slab to fill the void and lift the concrete back to a desired level. The process was clean with minimal disruption, and the quick cure time allowed these homeowners to use their front steps instantly.

Before

After

Kevin T. of Spaulding, IL had an uneven walkway and driveway. As can be seen in the picture, the concrete slabs in the walkway had sunken away from the step. The uneven areas posed tripping hazards so Kevin called Woods Basement Systems. Woods recommended PolyLevel.

Woods injected PolyLevel through small holes drilled in the concrete slabs. PolyLevel is a two-part foam that expands to fill any voids below the slabs and lift and level the slabs. It's waterproof so it won't wash away and it's lightweight so it won't add more weight to the soil below, making it a much more permanent concretely leveling solution than other methods like mudjacking. It also cures much quicker, causing less down time than traditional methods like mudjacking.

Before

After

PolyLEVEL was injected into a sidewalk slab in front of this Highland, IL homeowner's house, realigning the slab with the front porch.

Before

After

Mudjacking settling concrete slabs can get very messy. For example, large, unsightly holes must be drilled in the concrete prior to mudjacking. The grout being installed can spew out of the holes in the slab as it's being installed. Ultimately, mudjacking adds weight to the underlying soil, can erode or wash out, and takes days to cure.

PolyLEVEL, on the other hand, requires minimal disruption and boasts an impressively quick cure time—a concrete slab can be driven on 15 minutes after installation! This patio in Mascoutah, Illinois was able to be repaired and used by the homeowners the very same day. The material is waterproof and will never wash out. As a high-capacity, expansive polymer, PolyLEVEL can lift even heavy loads such as stoops and slab foundations.

Before

After

Concrete settlement is a common problem that causes other problems like trip hazards, pooling water against foundations, and unsightly cracks in concrete. This porch in Mascoutah, Illinois had settled more than 2 inches, demonstrated by the gap between the concrete slab and the brick border.

Woods Basement Systems installed PolyLEVEL—a structural grade polymer—under the concrete slab to raise the slab back to a level position, and the difference is clear. PolyLEVEL is injected into the void beneathe concrete slabs, fills the void, and the polyurethane's expanding properties allow for an accurate lift.

Before

After

Connie S. of Dorsey, Illinois was concerned about her cracking and uneven concrete. The cracking walkway was a safety concern for her visitors.

Foreman Andrew T. installed PolyLEVEL injections to restore her walkway. PolyLEVEL is a long-lasting, noninvasive solution. Now, her concrete is even, safe to use and beautiful.




Sinking sidewalks, driveways and concrete floors aren't just eyesores - they can quickly turn into safety hazards! Sinking concrete can be especially troublesome if you are:
Concerned about the liability of visitors tripping on your property
Preparing your home for sale
Or simply want to enjoy your home with your family and friends
Concrete repair can be simple and affordable - Find out how!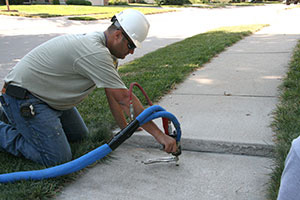 PolyLevel® is a fast & efficient method to raise sinking concrete. This simple foam injection can stabilize your concrete slab for years to come!
Woods Basement Systems, Inc. can fix your sinking outdoor concrete problems so you can enjoy your driveway, sidewalk or patio again without worry.
In the past, contractors relied upon mudjacking (also known as slab jacking, concrete lifting, concrete raising, grout pumping and slab leveling) to level concrete that had settled over time. This entailed pumping concrete slurry under the settled slab to raise it and hoping that the settlement wouldn't continue.
At Woods Basement Systems, Inc. we use PolyLevel® to lift concrete slabs to a level position with less weight and disruption than the legacy mud jacking or slab jacking process.
See for yourself how PolyLevel® works, and check out our before and after photo gallery of PolyLevel® concrete repair.
We would be happy to provide you a free evaluation and estimate for concrete repair and leveling in or around St. Louis, Springfield, St. Charles, Florissant, Granite City, Danville, Chesterfield, O'Fallon, Urbana, Fenton, Cape Girardeau and nearby.
Looking for a price? Get a no cost, no obligation free estimate.