Rigid Foam Insulation Company Serving St. Charles, Springfield, St. Louis & Nearby
Rigid foam insulation provides a durable solution for attics, basements, crawl spaces and more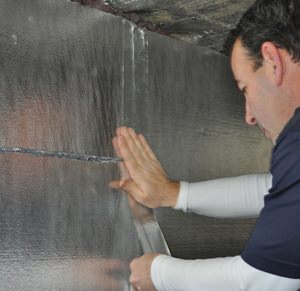 SilverGlo™ foam panels do an excellent job of insulating basement and crawl space walls.
Woods Basement Systems, Inc. installs rigid foam insulation for a variety of applications, including the attic, basement and crawl space. Rigid foam is a popular insulating product for its durability, high insulating value and versatility. Unlike fiberglass batt insulation, rigid foam boards never lose insulating value by settling or compressing. Foam boards shed water instead of soaking it up like cellulose and fiberglass insulation do and foam insulation won't support mold or provide a home for mice, insects and other pests.
If you're interested in upgrading your house with rigid foam insulation, call us at 1-844-204-8198 or click the link below to request a consultation and estimate! We are the home insulation experts in St. Louis, Springfield, St. Charles and surrounding areas.
Types of rigid foam insulation
Rigid foam insulation provides high insulating value with little thickness, but not all rigid foam performs the same. The experts at Woods Basement Systems, Inc. can help you choose the best rigid foam for the area of your house that needs insulating.
Polyisocyanurate (often referred to as polyiso) has the highest R-value per inch of any rigid foam insulation. Polyiso is a closed-cell rigid insulation that can be used in a variety of applications, including cavity walls, stud walls, masonry walls and vaulted ceilings.
Extruded polystyrene (XPS) is a closed-cell insulation, usually pink or blue in color, with a smooth plastic surface. The closed-cell structure of XPS foam board provides a consistent R-value of R-5 per inch regardless of density.
Expanded polystyrene (EPS) is an inexpensive insulation material that meets or exceeds all required building and energy codes. EPS rigid insulation is the most versatile of the three rigid foam insulation options and can be used for insulating attics, walls and below-grade areas.
SilverGlo™ sets a new standard for rigid foam insulation
Recognizing the critical role that rigid foam insulation plays in improving home energy performance, CleanSpace developed its own brand of rigid foam insulation. SilverGlo™ insulation can be used to insulate the crawl space or basement, as well as for insulating an attic or garage. The foam boards are easy to cut and install, reducing the time it takes for your insulation work to be completed.
The first thing you notice about SilverGlo™ is that it looks different from other brands of rigid foam insulation. When SilverGlo™ boards are made, they are infused with graphite powder to improve insulating value.
Each board also has a reflective coating that acts as an effective radiant barrier. A 2-in.-thick board is rated at R-9, or R-11 if there's an air space adjacent to the radiant barrier. Thicker boards are also available for applications where more R-value is required. By taping the seams between the boards, our technicians create an effective air barrier, providing yet another energy-saving feature.
Get an estimate to upgrade your home's insulation
If you're interested in rigid foam insulation for your basement, crawl space, or attic, the home energy experts at Woods Basement Systems, Inc. are here to help. We can evaluate your home and recommend the right solutions to improve home comfort and energy efficiency. Call us today at 1-844-204-8198 or contact us online for a free estimate in St. Louis, Springfield, St. Charles, Florissant, Decatur, Belleville, Champaign, St. Peters, O'Fallon, East Saint Louis and the nearby areas.
Looking for a price? Get a no cost, no obligation free estimate.