Crawl Space Structural Repair Company Serving Greater St. Louis
Repair your sagging crawl space & restore the structure --
without rebuilding!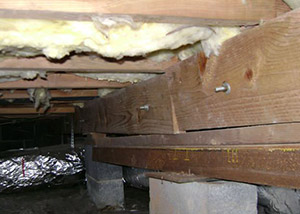 A beam begins to bend. Beams like this one provide mid-span support for floor joists in many crawl spaces. The concrete block supports for this beam have shifted and settled, causing the beam to bow downward. When the beam bends, the entire floor is affected.
Because it's built directly underneath your home, your crawl space plays a key role in your home's structural integrity. Crawl spaces bear this weight through the foundation walls and crawl space support columns.
However, many crawl spaces are designed with a support system that is either inadequate, rotting or has soils underneath the support posts that cannot bear the weight of your home.
In many cases, a failing crawl space structure can be resolved by installing crawl space supports. This is a fast job that can provide permanent, warrantied results. Typical installations can be completed in less than two days.
At Woods Basement Systems, Inc., we specialize in crawl space repairs of all types. If you're experiencing a structural problem with your crawl space, we have a solution for you. We offer free estimates in Springfield, St. Louis, St. Charles, and surrounding areas.
Crawl space support system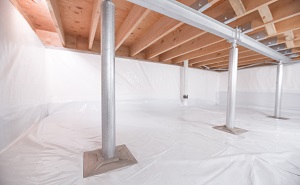 Strong, straight & adjustable. SmartJack® supports solve sagging floor problems in crawl spaces by stabilizing & leveling sagging beams.
The SmartJack® Crawl Space Stabilizer is an adjustable supplemental support system used for sagging crawl spaces.
It not only provides supplemental support to your failing structure -- it can also often lift failing floor joists or beams, restoring them to their original position.
This crawl space support system is unique in that it's made with strong, corrosion-resistant, galvanized steel. Because your system will not develop rust, it will remain adjustable for years, should you need to perform future adjustments.
The SmartJack® is available for installation throughout Illinois & Missouri, including St. Charles, Springfield, St. Louis and nearby areas.
SmartJack® Specifications
Fast, Year-Round Installation -- The SmartJack® can be installed year-round, with installations completing in about a day. There's no waiting time for concrete to cure!
Stronger Crawl Space Support -- Our crawl space support system can support vertical loads exceeding 60,000 pounds, which is far stronger than conventional concrete repairs.
Versatile Installation -- The SmartJack®'s portable size allows it to be installed in even the tightest of crawl spaces.
Superior Support -- Our support jacks do more than merely halt the downward movement of your floor. The SmartJack® may also be adjusted to try to lift the floor above to its original position.
Contact us for a free estimate
Worried about the structural integrity of your crawl space? Look no further than the professionals at Woods Basement Systems, Inc.. We offer free estimates in Decatur, Florissant, Champaign, Belleville, O'Fallon, East Saint Louis, St. Peters and many nearby areas in Illinois & Missouri - schedule yours today!
Looking for a price? Get a no cost, no obligation free estimate.