How to Winterize Your Greater St. Louis Home
Put an end to chilly rooms and high heating costs by making the right improvements in the right order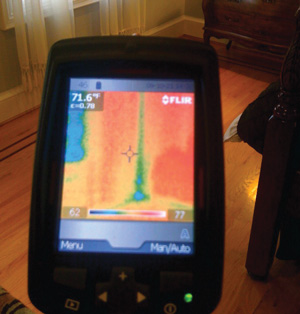 Detection and correction. It's important to accurately diagnose comfort and energy problems first. Our experts use an infrared camera (shown above) to reveal air leaks and missing insulation.
No one wants to deal with an uncomfortably cold house, rooms that won't stay at the right temperature, or high heating costs all winter long. Winterizing your home can put an end to these problems through proper identification of problem areas and improvement such as air sealing and insulation.
At Woods Basement Systems, Inc., we specialize in winterization and other home energy and comfort improvements. If you're interested in winterizing your home, call us today at 1-844-204-8198 or click below to get started. We offer free estimates on all our work in O' Fallon, Belleville, Florissant and the surrounding areas.
Understanding the right way to winterize your home
The term "winterizing" refers to a wide range of improvements or repairs that can counteract the adverse effects of cold weather. In other words, winterizing aims to maintain comfortable interior temperatures despite frigid outdoor conditions. Winterizing is also a great way to reduce your heating costs.
It's a common mistake to blame high heating costs and cold rooms on the heating system. This certainly can be true if your house has an old, inefficient furnace or boiler, but even the most efficient HVAC system can't overcome common building envelope deficiencies like inadequate insulation and air leaks. At Woods Basement Systems, Inc., address home winterization issues with the following steps.
Home evaluation: Our home energy assessment is the first step towards identifying the right solutions for your home. We use thermal imaging cameras to identify where air leaks are located in the home as well as rooms that have inconsistent temperatures.
Air sealing: Air leaks waste energy by allowing the air you pay to heat to escape the home, forcing your furnace to run longer to keep the home at the right temperature. Air leaks also allow cold air, creating uncomfortable rooms. Sealing air leaks throughout the home will eliminate these problems and allow your insulation to work more effectively.
Insulation: Poor insulation allows heat to escape from your house and will lead to uncomfortable rooms. Upgrading insulation in problem areas such as the attic, crawl space, and walls is a smart way to ensure your home is as energy efficient as possible. These upgrades will also create more consistent temperatures throughout the home.
Keep your home comfortable and efficient with expert winterization
If you're concerned about your home's comfort and efficiency, or if you want to reduce heating costs, the home energy experts at Woods Basement Systems, Inc. can help. Our experienced professionals will provide you with a thorough evaluation of your home and the right home energy improvements for your needs. Call us today at 1-844-204-8198 or contact us online to get started with a free estimate in O' Fallon, Belleville, Florissant, Decatur, Ballwin, Belleville, Champaign, St. Peters, Saint Louis and the surrounding areas.
Looking for a price? Get a no cost, no obligation free estimate.