Basement Waterproofing In Greater Saint Louis,
Missouri & Illinois
Basement Waterproofing Contractors Serving Springfield, St. Charles,
Florissant And Nearby
Here at Woods Basement Systems, Inc., we've been fixing wet basements in neighborhoods like yours since 1986. Our certified technicians have the expertise you need to get the job done quickly, effectively, and permanently. There's no job too large or small -- and there's no wet basement we can't fix!
Let one of our basement experts come and give you a free waterproofing estimate. We want to help you make your basement dry all the time!
Common Waterproofing Solutions:
(Click for more information about each solution.)
Through years of research, Basement Systems®, Inc. has developed the most effective and long-term solutions for wet basements. Their products have been keeping basements dry in the United States, Canada, and the United Kingdom since 1987.
To date, our waterproofing systems have been used to repair hundreds of thousands of basements and crawl spaces worldwide!
Our Innovative Approach
We've taken the best concepts from conventional waterproofing methods and combined them to create the most innovative, effective systems in the industry.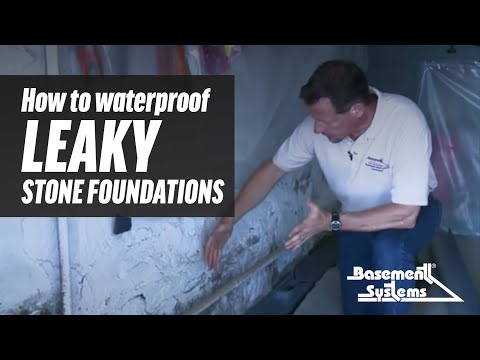 How to Waterproof Leaky Stone Foundations
Welcome to Episode 1 of the All Things "Basementy" Video Series! In this series Larry Janesky,...
Watch Video
Recent Videos
These products include French drains and sump pump systems that are custom-designed to handle all problems that arise in below-grade spaces.
Customer Reviews

"I have concern about how walls will look now and 5 years from now."

"The foreman Miguel Ortiz explained the work to be done, the timeframe and..."

By Marshall & Kendall M.
Charleston, IL

"Everything went well, and if I could, I would rate the service a 10."

"Job is yet to be finished. Installer coming out this Saturday to finish..."


Professional, Certified Waterproofers In Illinois & Missouri
Basement water problems are as old as the structures themselves. Water will leak into a basement through any opening it can, including your walls, floors, and the joints between them. Water can even pass through the concrete itself -- which is one reason why basements are notoriously damp, humid spaces.
Other companies might try to sell you on inferior basement waterproofing solutions. Our products have been developed, patented, and perfected by Basement Systems®, Inc. -- the world's largest network of basement waterproofing contractors.
If you live in Springfield, St. Charles, St. Louis. Decatur, O'Fallon, St Peters, Champaign, Florissant, Chesterfield, Belleville or the nearby areas, our basement experts will show you how we can customize your waterproofing solution to keep the basement dry all the time! For a free, no-obligation waterproofing cost quote, contact us by phone or e-mail today!
Woods Basement Systems services many cities in Illinois & Missouri, including Champaign, Florissant, Decatur, Chesterfield, St Peters, O'Fallon, Belleville, Cape Girardeau, Danville, Ballwin, Alton, Carbondale, Edwardsville, Charleston, Lake St. Louis, and many neighborhoods nearby.
Looking for a price? Get a no cost, no obligation free estimate.