Our Basement Waterproofing System in St. Louis, Springfield, St. Charles, Florissant & Nearby
We offer effective solutions for all types of basement waterproofing problems
As a local waterproofing company with more than 30 years experience, Woods Basement Systems, Inc. helps solve basement leak problems fast and prevent basement flooding with proven warrantied solutions.
All of our patented products, like the award-winning WaterGuard® drainage channel, are custom designed to fit your home. We install these products exclusively as the authorized dealer in St. Louis, Springfield, St. Charles, Florissant and nearby. In 2005 we became the nation's largest Basement Systems contractor!
If you have musty smells, walls that feel damp, or if your basement floods with heavy rain, we can help. Not sure what's causing your home's wet basement? Let one of our experts take a look. We offer free inspections and estimates - schedule yours today! Call us at 1-888-399-4067 or click the button below to send us an e-mail.
What Our Customers Say!
"I have concern about how walls will look now and 5 years from now."

"The foreman Miguel Ortiz explained the work to be done, the timeframe and..."

By Marshall & Kendall M.
Charleston, IL

"Everything went well, and if I could, I would rate the service a 10."

"Job is yet to be finished. Installer coming out this Saturday to finish..."

"Other than the pricing, everything I experienced with woods was well done..."

"Wanted to say thanks to Woods Basement for an outstanding job. They..."

"Thank you! The service was excellent, and the job seemed to get done so..."

"I wouldn't recommend anyone else. I was pleased at all that was done to my..."

"Ryan, Larry and Chris installed the Waterguard system in matter of hours..."

"I have no reason to think it won't but as long as warranty holds true(if..."

"The work was done in a timely manner and has eliminated a big problem for..."

"The best of the best!! Very well experienced on installations. They got..."

"I would like to thank Juan(forman),James,and Tyler for their excellent..."

"Very happy with the work done provided by your company."

By Janice J.
Shelbyville, IL

"Miguel-Regge-Jacob all did a fantastic job and had it completed in 2 days..."

"All the people at woods are nice and professional and did great work on..."

By McElroy C.
Lakewood, IL

"Thank you to Juan, James and Tyler. We can really see an improvement with..."

By Amy G.
Saint Peter, IL

"Garth knows what he is talking about!!! Had a problem he had the RIGHT..."

By Amy G.
Saint Peter, IL

"Brian was able to add battery backup for our outdoor triple safe pump by..."

By Peter H.
Mount Zion, IL

"All other parts of the experience was great. The crew of Juan, James, &..."

"They were so clean that all they had to do was to pickup the plastic that..."

By Randy H.
Mount Vernon, IL

"Both sellers and installers were friendly and professional. Due to a..."

"Kevin was very good and detailed in his sales process."

"Miguel Ortiz' crew was busy the whole time they were here and did an..."

"Christopher and his crew were very professional and despite all of the set..."

"Ben Scobbie explained all of the possible improvements we might be able to..."

By Mardell P.
Taylorville, IL

"your foremen (Melvin & Juan) were most helpful in explaining anything..."

By Christy W.
Carbondale, IL

"We are considering your services, and we thank you for excellent and..."

By Brenda E.
Carbondale, IL

"This was my first experience with Ben Scobbie, the technician, even though..."

"Dave Palmer II performed the annual service on my sump pump system. He..."
---
The causes of a wet basement
Did you know you can have water issues in your basement without heavy rains or obvious standing water? It's easy enough to see water coming through a crack in your floor or basement wall, but what's the real cause of your basement water problem?
The Clay Bowl Effect
Excavated soil that's replaced around a completed foundation isn't as dense and tightly packed as undisturbed soil farther away. As a result, water collects in the soil immediately surrounding the house, putting pressure on foundation walls and causing cracks.
Hydrostatic Pressure
As soil around your foundation becomes soaked with moisture, it expands and puts pressure on your foundation. The water will then work its way through any opening available, including cracks and openings around pipes or windows.
---
How we solve your basement waterproofing problems
A home with a wet basement can be much more difficult to sell. In fact, a wet basement is one of the most serious "red flags" that deters buyers. The good news: we offer waterproofing products and services to help solve your basement problems fast. Our solutions include:
Perimeter drainage systems
Doorway drainage systems
Sump pumps
Waterproof wall and floor products
Wall and floor crack repairs
Replacement windows
Water heater flood protection
High strength washer hoses
Our system comes with a lifetime written warranty that's transferable to the next owner, so not only does our system restore value to your house, but it also gives homeowners and buyers confidence that their home is protected.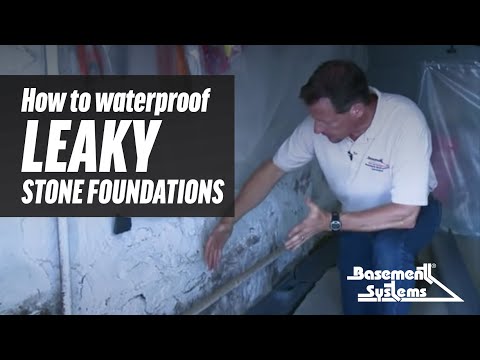 How to Waterproof Leaky Stone Foundations
Welcome to Episode 1 of the All Things "Basementy" Video Series! In this series Larry Janesky, owner and...
Watch Video
Recent Videos
Six great reasons to choose us
Quality products: Basement Systems® dealers us a complete line of patented, award-winning products that have been keeping basements throughout North America dry for over 25 years.
Fast installations: Our system installs quickly, with most projects completed in just one to two days.
Experienced crews: A crew of experienced contractors will arrive to install your system quickly and professionally. Each one is a waterproofing specialist who dries basements every day.
Cost-effective system: Our waterproofing system can be customized to fit your budget, and it costs about half as much as an exterior waterproofing system. Our system works for both finished and unfinished basements.
Locally-owned and operated company: Woods Basement Systems, Inc. is the locally owned and operated member of the Basement Systems network. We have products and training that simply can't be beat!
Free waterproofing quotes: We offer free waterproofing quotes to homeowners in our service area. Our quotes come in writing, and there's no obligation!
Get expert basement waterproofing services today
Our crews of waterproofers are experienced, well-trained professionals who work in basements and crawl spaces every day. The experts at Woods Basement Systems, Inc. have seen it all, and we know just what it takes to keep your basement dry all the time!
If your basement leaks or floods, or you have mold, mildew or a musty smell, call us today to request a free basement waterproofing estimate in Decatur, Belleville, Ballwin, St. Peters, East Saint Louis, Champaign or nearby. We will send one of our certified basement waterproofing specialists to visit your home and conduct a thorough inspection of your home's basement foundation.
It looks like you are visiting our site from Ashburn.
Click here to get started.
Click to see why people hire us
Recent Basement Waterproofing job requests:
Project Location: E Campbell Rd, Richardson, TX 75081
Comment: Compliments, We have a project in your location as we are looking to purchase Grundfos/Shurflo Submersible Water Pump with the following part numbers below: - Grundfos 22SQE15-220 1.5HP 200-240VOLTS PART NUMBER 96160201 - Grundfos 15SQE10-250 1HP 200-240 PART NUMBER 96160194 - GRUNDF0S SQ Flex 11 SQF -2 (pt# 95027335) - Grundfos 10SQ10-290 PART NUMBER 96160143 Let us have your stock availability, pricing, time frame and quantity needed will be determined, method of payment (Wire transfer, Cash Check, Visa card, Master card, Discovery) please advise. Thank you, Harris Segar HPPSPLUMBING INC Tel: Fax: