Foundation Repair in Greater Saint Louis
Get complete repair services for wall and floor cracks, bowing walls, and more
Solutions for every problem. If your foundation is cracked, buckling, or has other damage, our experts can restore your home to safe, functional condition.
No homeowner wants to deal with foundation repair, but foundation problems can affect your home's safety, appearance, and value. If you've seen issues such as floor cracks, bowing walls, or other foundation damage, Woods Basement Systems, Inc. can help. We will find the source of your problem and provide you with a quality foundation repair solution.
All of our patented foundation repair solutions are custom designed for your home. As the authorized Foundation Supportworks dealer in Illinois & Missouri, we install warrantied products available nowhere else, and all of our foundation specialists are fully trained and certified.
If you're ready to find a solution to your foundation issues, give us a call at 1-866-627-6475 or click below to schedule a professional inspection with one of our foundation repair experts. We offer free estimates on all our work in St. Louis, Springfield, St. Charles, Florissant and throughout the nearby areas.
Before and After
Before

After

The walls in this Paris, Illinois basement were bowing and seeping water. Woods installed wall anchors and a waterproofing systems, and now the basement is stabilized and dry.

Before

After

This building in Hoopeston, Illinois has bowing walls which the occupants attempted to repair using caulk which does not fix a bowing wall problem, it merely covers it until it gets worse. Woods Basement Systems diagnosed the bowing walls and installed an anchor system to not only stop the walls from bowing in further but also to return the walls to their original shape.

Before

After

Brian and Dana M. of Champaign, Illinois were concerned with their bowing foundation walls. As the walls bowed under pressure, they began to crack and allowed water to leak into their basement.

System design specialist Greg B. designed a solution to support their foundation and keep their basment dry. Foreman Mason S. and his crew installed PowerBrace. The PowerBrace support system supports the foundation while straightening the walls over time.

Mason and his team also waterproofed the basement with WaterGuard and TripleSafe. Brian and Dana are pleased to know their foundation is safe and their basement will stay dry.

Before

After

As clay soil becomes wet, it expands, putting pressure on the foundation wall. No longer being able to withstand pressure from the soil, and outside pressure from water, this wall in Clay City, IL began to crack horizontally. This is the main sign of a bowing wall.

Geo-Lock Wall Anchors work by connecting to the wall plate by a steel rod. This will provide pressure to the inside of the bowing wall. The anchors will stabilize the foundation and over time potentially move the walls back to their original position.

Before

After

This homeowner has cracks developing in the corner of their basement wall. The corner relies on the adjacent walls to support it, and both walls had large diagonal cracks, showing that the corner had little to no support left. The solution on one of the walls was the Geo-Lock Wall Anchors. These anchors would help support and stablize the wall, preventing further damage.
---
---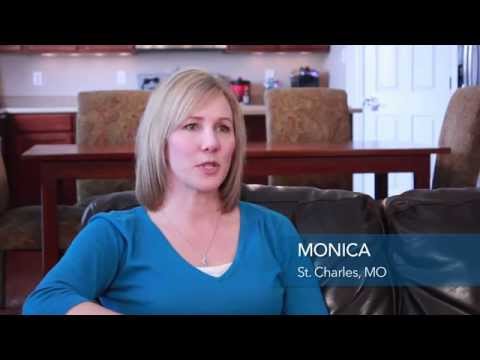 St. Charles, MO Basement Dry & Stabilized
Monica, a customer for over 10 years, describes her experience with Woods Basement Systems. In 2002, Monica...
Watch Video
Recent Videos
Get the best foundation repair services from your local experts
No two foundation problems are alike, which is why our professionals will carefully examine your foundation and develop a custom repair plan. We have unique solutions for bowing walls, foundation settlement, floor cracks, and all other types of foundation problems.
All of the products we install are manufactured by Foundation Supportworks, Inc. Each foundation product is carefully designed and tested by a team of structural and geotechnical engineers, and all of our systems come with a written warranty, giving you complete peace of mind.
You don't have to live with stressful foundation problems. Woods Basement Systems, Inc. is here to provide you with quality foundation repair services that will restore the integrity of your home. Contact us today to request your free foundation repair estimate in Florissant, Springfield, St. Charles, St. Louis, Decatur, Ballwin, Belleville, Champaign, St. Peters, East Saint Louis or nearby.
Looking for a price? Get a no cost, no obligation free estimate.