Basement Flooring Installation Company Serving Greater St. Louis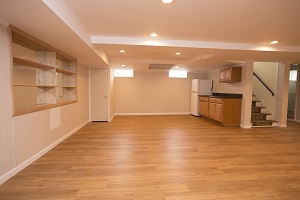 Get more from your floor
A basement floor should be beautiful, durable, easy to clean and immune to damage from moisture & mold.
Choose any of our solutions for warmer, comfortable basement floors
Installing flooring in your basement is not like installing flooring in your upstairs living space. Because the basement is vulnerable to humidity from the concrete below, it's important that your flooring will not be damaged by moisture. As Illinois & Missouri's basement expert, Woods Basement Systems, Inc. provides solutions designed to isolate your floor surface from the cold, hard, damp concrete. We don't just install beautiful basement floors - we make basement floors dryer and more comfortable too! 
If you're considering turning your basement into a living space for you and your family to enjoy, solving the problem of the cold, damp floor is the most important part of that transformation.
Get started with a free consultation & estimate!
Looking for the best flooring for your basement? Call us at 1-844-204-8198 or click below to request a free basement design consultation and estimate to go over all the options with a remodeling specialist. We provide basement finishing services in St. Charles, Springfield, St. Louis and surrounding areas.
---
Install a floor covering in your basement that's made to last
Our basement-friendly floors transform cold, damp, hard concrete floors into beautiful, dry, comfortable floors. Unlike carpet and hardwood flooring, these flooring products are made from inorganic materials that will not be damaged by moisture or allow mold growth.
We offer basement floor coverings in a variety of colors and styles. Click below to learn more about the specific flooring products that we install.

ThermalDry® Elite Plank Flooring
ThermalDry® Elite Plank Flooring imitates the look of long, thin wood planks that you might find throughout the rest of your home. But because they are made out of inorganic materials, ThermalDry® planks will stand the test of time in a basement environment. They are available in Light Pecan and Dark Walnut.
Advantages over real wood plank flooring:
---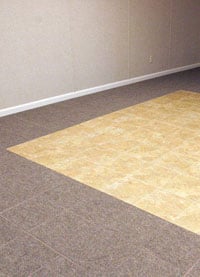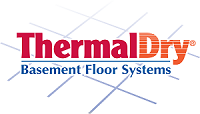 ThermalDry® Modular Flooring
ThermalDry® basement floor tiles are engineered for basement environments. ThermalDry® Basement Flooring is a versatile solution for your cold, damp concrete floor. ThermalDry® Flooring is available in four styles: carpeted, wood, tiled and unfinished. The neutral colors will match any home decor and the carpeted and tiled styles can be mixed for a unique look.
Advantages over traditional tile, carpet & wood flooring:
---
Protect your carpet from mold with specially-designed subflooring
These specially-designed subfloor systems insulate and separate the finished flooring from the cold, damp concrete slab. Choose these solutions to prolong the life of your basement carpet and for a warmer, more comfortable floor.

ThermalDry® Insulated Floor Decking™
ThermalDry® Insulated Floor Decking™ is an innovative basement subfloor that combines insulation with inorganic, water-resistant flooring.
Advantages over wood subflooring:
---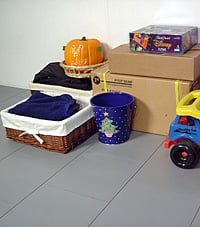 ThermalDry® Basement Floor Matting
ThermalDry® technology isn't just used in our unique line of finished basement flooring. The same square, interlocking tile design can be applied to basement subfloor matting. These grey matting tiles provide a perfect subfloor when installing carpeting in your basement. 
Advantages over wood subfloor:
---
Get a free quote for the best basement flooring for your home
Contact us today to request a free estimate for your basement remodeling project. In addition to basement flooring, we also offer wall systems, ceiling solutions, and everything you need for a healthy, beautiful basement! Check out all of our basement finishing services to see what we can do for you.
Looking for a price? Get a no cost, no obligation free estimate.